Tyler Merritt: Craft Viral Videos
---
Our words matter.
The ones we choose to use and the ones we choose to leave out. The medium in which we share them. The tone with which they're shared. Whether heard or read by millions or spoken only in our minds.  Anytime and anywhere words are used, they have an impact. They matter.
Consider Tyler Merritt and his experience of becoming a viral media sensation by simply sharing a single page's worth of thoughtfully considered words.
These words he made up a couple of hours before recording them on free video-recording software late one night at a friend's house.
Words he then uploaded at 2 a.m. to share with a few friends and family members.
Words he discovered (when he woke up a few hours later) had been heard by over a million people. Then 20 million. And now more than 100 million and counting.
One page worth of words led to interviews with all the big news outlets, retweets, and shares by A-list celebrities, appearances on late-night talk shows, a landmark book deal, and a positive, measurable impact on culture during a particularly challenging time in American history.
In other words (see what we did there?), Tyler Merritt knows the power of words chosen wisely.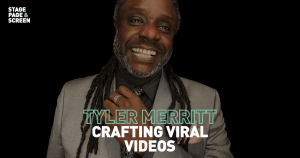 00:00:00 // Tomfoolery & Banter
00:03:11 // Introducing Tyler Merritt
00:44:04 // How to approach a publisher with confidence
00:47:31 // Strategies for creating a buzz about your book
00:55:39 // Pro tips for writing and publishing a children's book
01:10:12 // How to create impactful words through the power of observation
Tyler Merritt is an actor, author, comedian, musician, social commentator, and all-around delight (as you'll hear). He has numerous TV and film credits and can even claim a place in the Marvel universe. His book, I Take My Coffee Black, chronicles his unique experience of racial tension and reconciliation, creating change through community, and doing it all with a smile.
We hope you enjoy the many inspiring, thought-provoking, and downright funny words that came out in our interview with Tyler!
---
LET US HELP YOU GROW YOUR IMPACT

.
Learn more about how we can help you launch and grow your speaking business. 👍