Mickey Rowe: Lean In To What Makes You Stand Out
---
Mickey Rowe is autistic and legally blind.
Despite his unique challenges (in fact, BECAUSE of his unique challenges), Mickey has learned to leverage what makes him stand out, allowing him to connect with countless others through his books, his speaking, and his role as a leading man on Broadway's biggest stage.
Mickey's learned ability to connect at a heart level has made him a hit with audiences of every kind, from small elementary schools to the biggest stage on Broadway. In fact, Mickey was the first autistic actor to play Christopher Boone, the lead role in the Tony award-winning play, The Curious Incident of the Dog in the Night-Time. He also played the title role in Amadeus (another Tony award-winning play). Mickey Rowe was the founding Artistic Director of the National Disability Theatre, which works in partnership with Tony Award-winning companies. He's also the author of the award-winning bestselling book Fearlessly Different.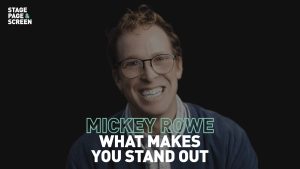 In this episode, you'll learn:
What publishers are looking for (8:06)
How to pitch your proposal or book idea to an agent (15:05)
Tips on selecting a best-fit publisher for your book (21:32)
Public speaking tools from the biggest stage on Broadway (43:46)
The hilarious true story of Mickey's book launch catastrophe (1:12:17)
Mickey Rowe's journey and accomplishments serve as an inspiration to individuals facing challenges, highlighting the power of embracing one's unique qualities and leveraging them to forge meaningful connections and make a lasting impact.
---
LET US HELP YOU GROW YOUR IMPACT

.
Learn more about how we can help you launch and grow your speaking business. 👍