Chase Mielke, M.Ed: Speaking to Educators
---
Why is teacher burnout skyrocketing despite an increase in professional development for educators?
In Chase Mielke's experience as both teacher and trainer, he's found most professional development efforts designed to support educators miss the mark. Why? Because, ironically, they're bogged down in theories and untested applications. 
What's actually needed, according to Chase, is more compassion, empathy, and tools that have been tested in the harsh conditions of real-world classrooms.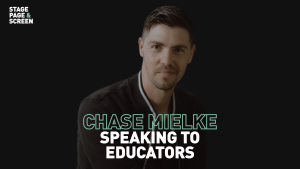 In this episode, you'll learn:
00:16:55 

// The critical differences between keynote speaking and professional development.

00:21:08 

// What teachers really think about the content you're delivering.

00:25:48 

// How "gradient" helps your audience and will make you a better speaker/facilitator.

00:49:00 

// Two pitfalls to beware of in your presentations that could turn the audience off.

01:14:45 

// Online course creation tips and tricks.
Chase knows firsthand the value of healthy, engaged educators and aims to help teachers love teaching again. Learn how to better serve educators as you put Chase's insights, experience, and humor into play through your own speaking and writing.

---
LET US HELP YOU GROW YOUR IMPACT

.
Learn more about how we can help you launch and grow your speaking business. 👍